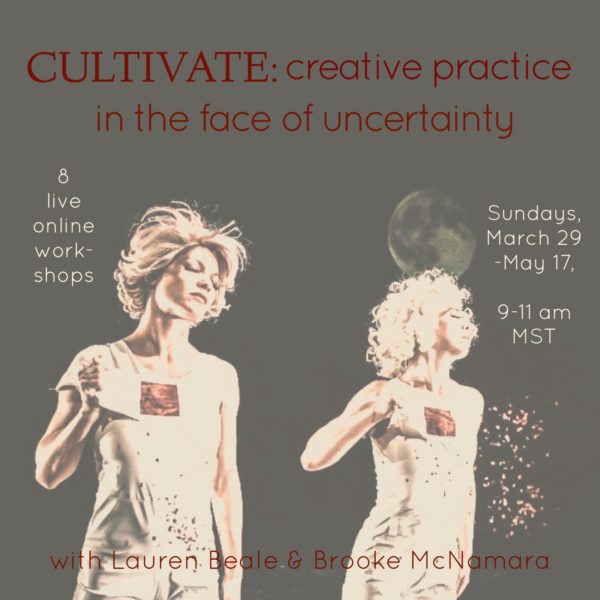 Cultivate – Creative Practice Online Workshop Mar 29-May 17
From: $0.00
with Brooke McNamara and Lauren Beale of Eunice Embodiment
via Zoom video conferencing
Sundays, 9-11 am MST
Starting March 29
$200 suggested investment, but please pay what you can. Enter your chosen offering in the field below. 
Description
CULTIVATE: an online series of creative explorations
with Lauren Beale and Brooke McNamara of Eunice Embodiment
In this potent new chapter of global uncertainty, we are called to gather online with brave and tender humans for CULTIVATE: creative practice in the face of uncertainty. This 8-Week Online Workshop Series led by Lauren Beale and Brooke McNamara is an embodied, interdisciplinary exploration in which we harness and catalyze our creative vitality amidst our ever changing circumstances.
We are called to support and collaborate with each other, in community across the globe, to tend the glowing embers or living flames of our collective creative aliveness. We are called to help keep each other attentive, wholehearted, supple, earnest and playful as we navigate so many layers of unraveling.
---
Sundays, 9-11 MST
March 29
April 5
April 12
April 19
April 26
May3
May 10
May 17
Via Zoom video group call
Cost:
$200 suggested investment,
but please pay what you can