gently, 
allow your heart to hand you
every last piece
of who you truly are. 
B U R Y   T H E  S E E D by Brooke McNamara
poems for releasing more life into you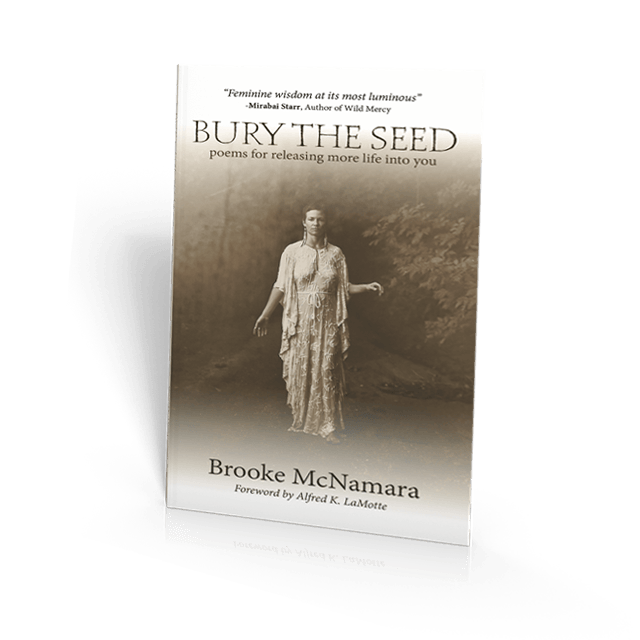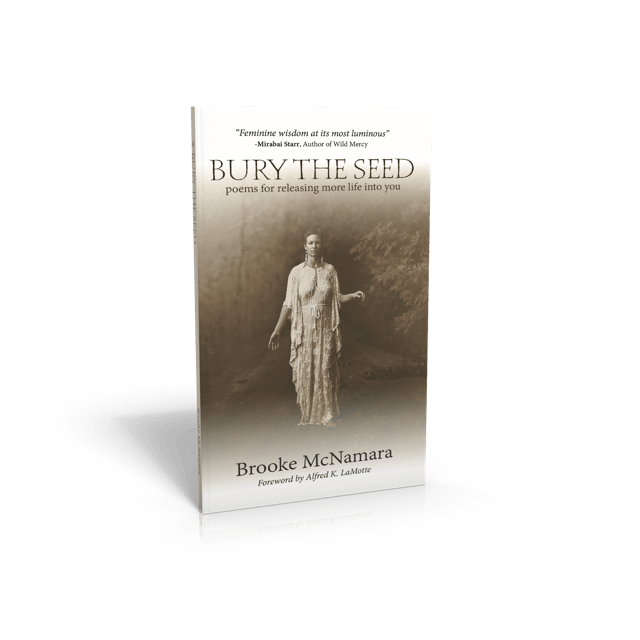 gently, 
allow your heart to hand you
every last piece
of who you truly are. 
B U R Y   T H E  S E E D by Brooke McNamara
poems for releasing more life into you
"This is feminine wisdom at its most luminous – radically accessible, urgently sensual, clear as snowmelt and grounded as a grandmother oak.  Goddess save us from another self-important self-help book. Brooke McNamara's poetry is a bell: wake up; give thanks; leave nothing out."
MIRABAI STARR,
Author of Wild Mercy 
and Caravan of No Despair
"Bury the Seed has become my new secret little pleasure that I gleefully pull out while in the line at the market, sitting in my dentist's office or while waiting for the light to change. I can't get enough of this delightfully refreshing reset of my mood and mindset. Every once in a while, a prophet appears in the form of a poet. I'm happy to say that Brooke McNamara is our most recent one. More please!" 
KATHERINE WOODWARD THOMAS, 
New York Times Bestselling Author 
of Calling in "The One" and Conscious Uncoupling
"These are gloriously urgent wake-up poems — wake up, astonished, to the only moment we have — this moment! McNamara is a modern Zorba. She urges us to stop, to rest, to listen to the life pouring through and over us, to steep ourselves in the mystery that we are."
ROGER HOUSDEN,
Author of 10 Poems to Change Your Life, 
Dancing with Joy, and Risking Everything
"Reading Brooke McNamara is like being pulled deliberately, ruthlessly through the eye of the needle.
This poetry is refuge. There is no protection from our luminous poverty, nowhere to hide from our belonging to everything. Only our tenderness can pass."
 VERA DE CHALAMBERT,
Interspiritual Theologian,
 Author of Kali Takes America
"Before beginning to read Brooke McNamara's second book of poetry, Bury the Seed, light a candle and wrap yourself in a hand knit heirloom blanket. Sip your coffee. Sit in practice for a while, just long enough to prepare yourself for 'cataclysmic knowing,' a figure/ground shift of your being.
From the first poem to the last, McNamara evokes through her contemplations a spirit of humility, of the ground from which true reverence is born, and which
 opens the heart to receive all the varied resonances
 stirred by her words. She follows the path of gravity and descent, in Greek, kenosis, the emptying of the self which leads to katabasis, the passage down to the roots and foundations of all things. Brooke helps us recognize that this is the place of emptiness from which all possibility and renewal arises."
REV. DAVID C. MCCALLUM, S.J.
VP for Mission Integration and Development,
Le Moyne College
"These poems touch tender places in me and freshly, playfully nudge whatever it is that awakens, astonished, into radical freedom. They evoke so many so-funky so-ordinary moments, illuminating the sacred, utterly miraculous Wonder in which I notice I am always already sitting as I read them."
TERRY PATTEN, 
Author of A New Republic of the Heart, 
Integral Life Practice
"Raw, illuminating, brave, sensual, and highly addictive."
JAMIE CATTO,
Author of Insanely Gifted, 
Director of 1 Giant Leap and Becoming Nobody
"This is feminine wisdom at its most luminous – radically accessible, urgently sensual, clear as snowmelt and grounded as a grandmother oak.  Goddess save us from another self-important self-help book. Brooke McNamara's poetry is a bell: wake up; give thanks; leave nothing out."
MIRABAI STARR,
Author of Wild Mercy 
and Caravan of No Despair

Bury the Seed is divided into four parts: Bury, Tend, Harvest, Release. Each speaking to a richness born when we hold our experiences up to the light and allow them to take new shapes, to be made anew. Her poems are a study in the familiar, offering a lens so we may step back for another look. Brooke weaves words into relatable, contemplative lodestars that unfurl showing us where the treasure lay, always right under our noses, nestled in our longing, frustration, and surrender. 

These poems acknowledge the sacredness and possibility that linger in our everyday experience, persisting in words: shape, mother, gesture, clenched, drown, nothing. Brooke shows us how a shift in angle stitches cobalt, soap, and roses into the fabric of memory. Bury the Seed is an answer to our longing for the exquisite. Her words remind us that it is in living where our brave sorrows and simple delights are transformed into the magic each of us seeks.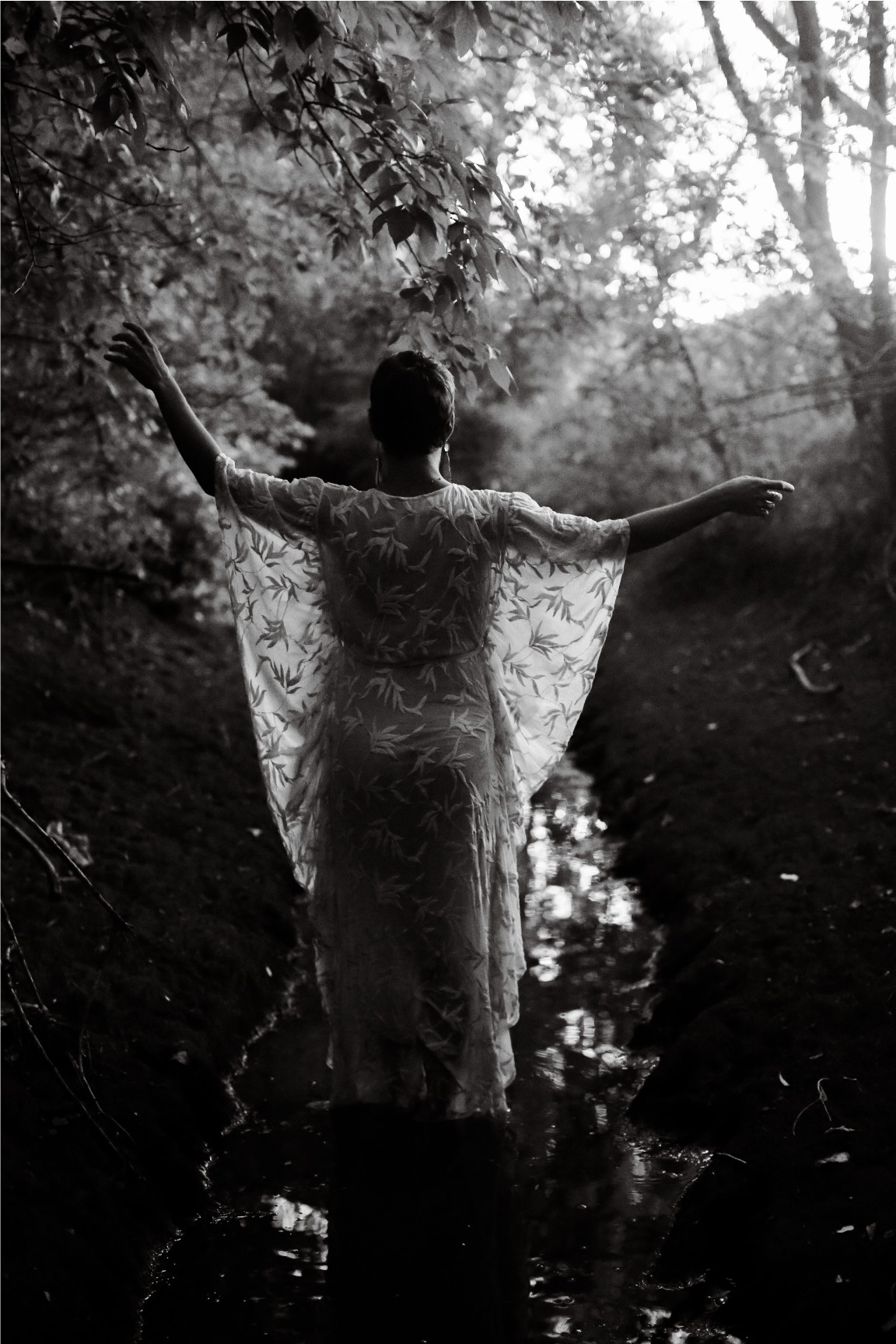 "What a gift it is to see the world through Brooke McNamara's eyes. Her lens is a kaleidoscope of timeless presence, modern motherhood, and the alternating sharp-soft experience of being a woman who tells the truth. Sewn out of the heartbreakingly poignant moments of everyday life, Brooke's poems remind us of our birthright: to notice, in each moment, the aching truth of what it means to be a human being." 
KELLY NOTARAS,  Author of The Book You Were Born to Write
"Brooke's poems act to awaken this Supreme Identity—the unity of You and Divine Sprit Itself — releasing the novel capacity of your own deepest Creativity. And this Kosmic vitality is what poetry at its best is meant to evoke, calling us to remember the radiant glory that is our own eternal soul. This is what Brooke does for us, for which we can all be truly, deeply grateful."   
KEN WILBER, Author of Grace and Grit,  A Brief History of Everything, and Integral Meditation
"Bury the Seed asks us to 'co-listen,' to attend with — we watch grief hatching into newness in these poems and feel the resonance of wonder in our own suffering. These poems change us." 
JANET STONE, Global Yoga Warrior
"What poetry does best is take the slack out of language. It provides spaces for breathing into unspoken truths. Brooke McNamara's poems are taut distillations. They take us beyond the mind into an evanescent encounter with embodied feelings and truths we recognize as borne from the bitter and glorious experience of living. She embraces and invites us towards the immanent in all of its mystery, contradiction, and sensate hunger. Like a spiraling and furious heartbeat, she captures a pulse that endures. She writes deeply from experience and does not shy away from the splendid or the painful. Reading these poems is like sipping a savory winter broth, borne from ingredients that pushed their way through the hardscrabble earth and into an alchemy of transformation through the culinary imagination of a master chef. The poems reek of survival and of nourishment. They are pungent and necessary." 
RAY ELIOT SCHWARTZ, Somatic Movement Educator,  Dance Artist and Activist
"These are poems perfect for sharing aloud, with lovers and loved ones, for gatherings or rituals — but they're also meditative, perfect for moments of self-love and glimpsing the mystery of life."
DAVE ROCK,Poet, Spoken Word Artist, Storyteller
"Jet lagged and exhausted, my daughter had just fallen asleep next to me as I laid in bed reading Brooke's poems. When I came to the last line of her poem PRACTICE, I burst into tears. In that moment, all boundaries vanished between reader and writer, life and death, struggle and liberation. In that moment, I felt her and felt deeply known by her. 
The journey of parenting, of pain, and of realization is reflected in Brooke's writing with a simple and undeniable elegance. Brooke's poetry weaves fire into fabric and spirit into matter as she pours her heart and transmission through her words. This book is a gift to all of us. May her poetic blessings spread far and wide for the benefit of all."
DUSTIN DIPERNA, Author of Streams of Wisdom
"Edgy, elegant, simple, sacred, and relentlessly real, Bury the Seed will stir in you the desire to live a more Awake life. Each poem is a gift, holding moments touched with deep presence, reverence, and wisdom. Thank you, Brooke, for capturing life's raw beauty in the way you uniquely do."
SARA AVANT STOVER, Bestselling Author of  The Way of the Happy Woman and The Book of SHE
"Can I read you a poem? I ask my husband. 
Midway through, I'm crying, struggling to get the words out. I look at him wordlessly through shining eyes, hoping he gets the transmission. 
Something has reached out from the page and grabbed my heart so fiercely that I can't speak. 
Brooke's words have taken me to another place in consciousness, far from the rocking chair, the cat, and the fire.
So good, my husband says, interrupting my reverie. 
Yes, I smile as I return to the room and meet his eyes with mine.  
Can I read you another poem? I whisper, full of hope and a little shy about asking. 
Not yet, he replies. Her poems are so rich. It's best to digest them one at a time.
True, that. Brooke's poems are so rich. So deep in their spiritual realization. So full of everyday Life. It really is best to digest them one at a time. 
If you can't help yourself and gulp down the entire collection in one sitting, like I did, I recommend going back again later, like I did. Savor them one at a time... Slowly. Enjoy! "
ALLISON CONTE, Founder, Sophia Leadership,  Instructor, Harvard Business Publishing,  and Co-Author of The New Feminine Evolutionary
"She had me at the subhead: poems for releasing more life into you.  With this new collection, Brooke McNamara delivers on that promise.  I finish it awake to more of what this life is and can be. It's a marvelous thing, what words can transmit in the hands of a poet as fine as Brooke."  
JEFF SALZMAN, Host of The Daily Evolver
"The elegance of her lyrical lines confront us with the contrariness of being, making it possible to tolerate, and yes, perhaps, to even fall into the eye of awakening through the artful unearthing of unity."
TERRI O'FALLON, Creator of STAGES Model of Human Development 
"Brooke McNamara's words fall like raindrops filled with light — fresh, gentle, nourishing, and utterly authentic. They invite us to wake up to the infinite beauty of BEING here and now, completely human and completely divine. "
DOROTHY HUNT, Spiritual Director of Moon Mountain Sangha,  Author of Only This!, Leaves from Moon Mountain,  and Ending the Search: From Spiritual Ambition to the Heart of Awareness
"Brooke's poetry has a quality that consistently causes me to stop, pause, breathe, and both see and feel the present moment (including myself in it) freshly.  Bury the Seed is such a gift and I am grateful!"
KENDRA CUNOV, Teacher, Coach, Founder of The Collective: A Global Web of Women Devoted to Embodied Wholeness
"Brooke's poetry is dangerously beautiful. Really it shouldn't be read by anyone not willing to be seduced and to really feel themselves. Don't read her work unless you're prepared to be human."
MARK WALSH, Founder of Embodied Facilitator Course,  Author of Embodiment: Moving Beyond Mindfulness
"Bury the Seed both inspires and provokes. While reading these poems I am equally drawn into an inner-silence, my own inherent divinity, and driven to go deeper in my practice as a poet and meditator. There are also poems rooted in the domestic, in the family, in the daily fact of being human. This is a dynamic book well-suited to the complicated age we live in."
JOSEPH MASSEY, Author of A New Silence
"Bury the Seed points to the mystery of life and calls us into a deep relationship with all of it. Brooke's way of drawing us into laughter and tears reveals a way of feminine embodiment that is vivid and appealing. This book is for any spiritual practitioner aiming for Self discovery. "
EMILY HORN, Dharma and Meditation Teacher
"Brooke's voice rises silently and rings through her words, finding a deep well within you. Her words fall far down, creating currents that linger. Brooke's poems weave and reveal the beautiful stories about the inside of all of us. She dares to welcome all the corners - the known and barely glimpsed, and equally the unknown, the hidden and the cauterized. I say yes to the ten thousand secret invitations in Brooke's little big book of poems, calling me to everything."
BEENA SHARMA, President of the Vertical Development Academy 
"Brooke McNamara's poems help me breathe. 
They remind me to feel more deeply, notice more acutely and listen with more profound attention. They remind me that being alive in a body is at once as sacred and miraculous, as it is ordinary, complex and of the earth. Emotionally, somatically and spiritually literate, these works - like all great art - grow with me through time."
RACHEL BLACKMAN, Theater Artist, Somatic Educator and Creativity Mentor
"I loved these poems! I read them together with my baby daughter, in the dark of the early morning. They did what for me great poems should do, they stirred something half unknown deep inside, they tenderized me, they transformed me. I read and saw the world and my daughter differently, the everyday veneer of life was stripped back and the deeper, the poetic, was revealed."
JOEL MONK, Co-Founder of Coaches Rising, Coach, Trainer, and Entrepreneur

BURY THE SEED
Pain always teaches me 
to make new things. 
Less for what the things become
than for how the making 
re-makes me 
brave and grateful. 
Early this morning,
under a cobalt, cloudless sky,
my steps each send instructions 
up to worried, humble ears:
The bells are ringing. 
It's time you knew —
in your gripped fist 
has always been 
your specific 
hallowed seed. 
Release 
that lifelong holding 
into open hands 
and here, 
exactly as you already are,
break ground, dig down,
and simply, faithfully,
bury the seed.
In the moist eternal darkness, 
let life split open 
and become.