Poetry and Meditation to Conjure Deep Support and Inspiration
In-Person Summer Retreat:


3 days in Boulder, Colorado



with Brooke McNamara
June 14-16, 2022
at the Boulder Zen Center + Boulder Guest House
You're invited to adventure to Boulder, Colorado, USA this Summer for an enlivening deep dive into connection with your own self, incredible community, and the unseen support and inspiration waiting to vivify your life.
In these bewildering times, both our inner and outer worlds are undergoing rapid change and unraveling. So much is unknown and yet to be seen. And so ~
Let us gather together in person around an invisible fire of great wisdom and love, and become still.
Let us become concentrated and warmed by the unseen flames, pulled into a heartfelt, coherent listening, born of a visceral longing for the sacred.
When we listen like this, we effortlessly lean toward what we innately belong to, what wants to guide and inspire us from just beyond the veils of consensus reality.
Each day of retreat will include two 30-minute meditation periods in the beautiful, traditional Boulder Zen Center, as well as 2 Summoning the Unseen workshop periods (including poetry and meditation teachings from Brooke, guided discussion and interpersonal connection, and time to write freely and with prompts.)
Workshops will take place at the Boulder Guest House, connected to the Zen Center, all of which is located walking distance from Boulder's charming Pearl Street and Downtown.
Boulder is magnificent in June ~ Summer is in full bloom and the natural beauty of the mountains and charm of this vibrant town are vitalizing. Our location is also just across the street from Naropa University, a 1-minute walk to the Boulder Creek Path, and a 10-minute drive to Chautauqua and Flatirons hiking trails.
Light breakfast with coffee and tea will be served each morning and lunches will be catered by Boulder's own Radiant Kitchen, serving amazingly delicious, locally grown, nutrient dense meals. Vegan or plant-forward + meat options will be available.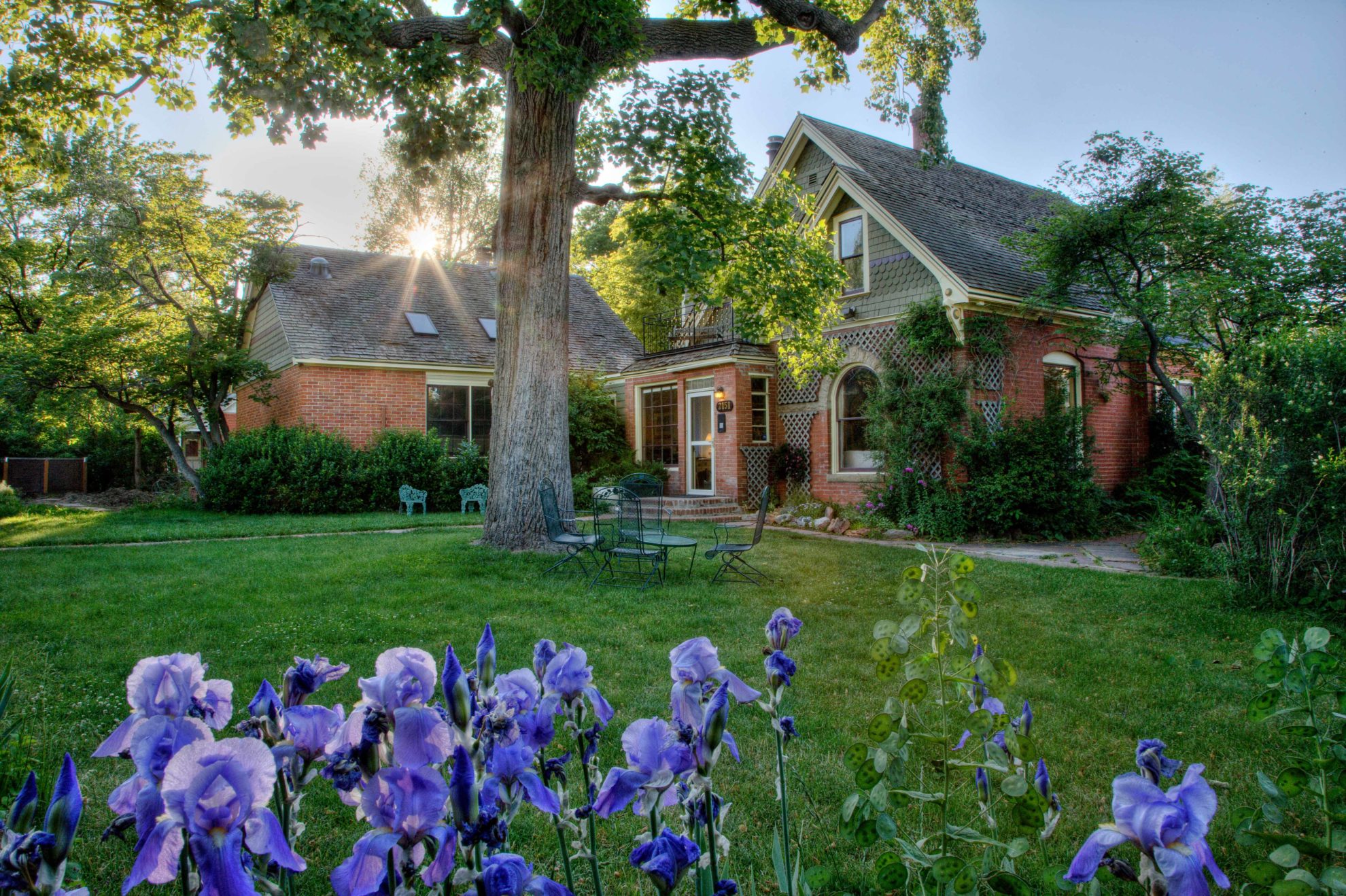 *An application is required and retreat is limited to 13 participants.
People of all genders, skin color, sexual orientation, age, experience level, and religious, national, and political background are encouraged to apply.
Early-bird price (by May 10): $495
Regular price (by May 31): $565
50% Refund available until June 7th;  
no refunds will be issued after June 7th.
Retreat fee does not cover travel, lodging, or dinners. Additionally, participants are responsible for exploring and purchasing their own travel insurance for the retreat and corresponding travel expenses.

Boulder Guest House, where our retreat takes place, offers the comforts and amenities of a boutique hotel within the context of an urban Zen Buddhist practice center. The Victorian house, which has long been a bed and breakfast, has been updated to have a contemporary feel, inspired by Zen.
If you're traveling from out of town and would like to stay on-site, 4 rooms are blocked off until May 1st for Summoning the Unseen retreat participants, to be booked on a first-come, first-served basis. Click HERE to read more and see pictures of these lovely rooms.

Room 1:
Queen (+sofa Queen)
Single Occupancy:  $280/person
Double Occupancy: $145/person
---
Room 2:
Queen (+ sofa Queen)
Single Occupancy:  $280/person
Double Occupancy: $145/person
Room 3:
King (or 2x twin)
Single Occupancy:  $240/person
Double Occupancy: $125/person
---
Room 4:
King (or 2x twin)
Single Occupancy:  $240/person
Double Occupancy: $125/person
*Why are the queen rooms more than the king rooms? The queen rooms are much larger!
Rooms 1, 2, 3 are available 3 nights Mon–Thu, and Room 4 is available 4 nights Mon–Fri (if you'd like to stay an extra night).
Additionally, Boulder's Basecamp Hotel is a short walk from our retreat location, and Airbnb is a good option as well. 
Please contact my assistant, Kailey Murphy, for support with lodging: kmurphy3232@gmail.com 
Out-of-town guests will need to fly into Denver International Airport and drive or take a shuttle/ uber for about 40 minutes to our retreat location in downtown Boulder. We will provide more specific directions to registered participants closer to the retreat dates.
3 days of meditation and poetry training in community and led by Brooke

3 mornings of coffee, tea, and light breakfast

3 delicious, nutrient-dense catered lunches from Radiant Kitchen

Use of Boulder Zen Center's zendo for sitting practice, and Boulder Guest House's common space and gardens for gathering, writing and relaxing (during retreat hours)

A booklet of poems and materials prepared by Brooke for our workshops
Travel 

Accomodations

Dinners
Guests are responsible for purchasing travel medical insurance and cancellation insurance which are strongly recommended. Purchasing travel insurance helps to mitigate any unexpected circumstances such as medical issues prior to traveling or while traveling, last minute flight cancellations or personal issues that might affect your trip. Retreat participants can look into rates and policies through www.travelguard.com.
All participants are required to sign a health & liability waiver in order to attend this retreat. This will be provided after registration and before arrival to retreat.
If you need to cancel, 50% refund will be provided before June 7th;  no refunds will be issued after June 7th. No refunds will be given for failure to attend or complete the retreat.
All participants are encouraged to purchase travel insurance.  In the light of the COVID-19 global pandemic, you are strongly encouraged to explore your options to purchase a premium policy with a Cancel For Any Reason contingency.  Group travel bookings are not protected so it is the individual's responsibility to protect their own investment.  To get an immediate quote for travel insurance, visit Travel Insured.
All participants will be required to send a negative Covid PCR test within 48 hours of retreat starting. We will all agree to further covid safety protocols closer to the retreat dates that are appropriate to the context at that time.
Two partial scholarships are available for participants in financial need, who are willing to contribute through work-trade. Please email Kailey Murphy for more information: kmurphy3232@gmail.com. 
Poetry can usher us into this realm of soul, imagination, and the liminal where we remember or sense things we didn't know we knew. A realm where we can receive vision or calibration not available through thinking or the conventional five senses alone. Where we may court and be courted by our muse. And where we can unfold and reveal bits of magic and insight simply by showing up to listen or bring pen to paper.
Meditation can harmonize body, mind, and breath, allowing deep letting go of unnecessary tension and revealing an ever present Awareness. This deeper nature is our birthright to realize, is not separate from any moment or expression of life, and is refuge when old reference points fall away.
In these bewildering times, let us gather together to engage these sacred rites: of imbibing and creating poetry, of meditation and falling into intimacy with what matters most, and of being in community with the intention to be touched by sources of unseen support and inspiration.