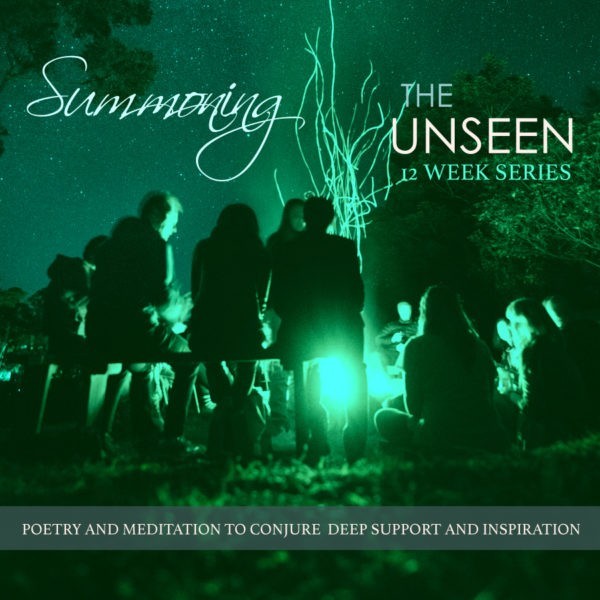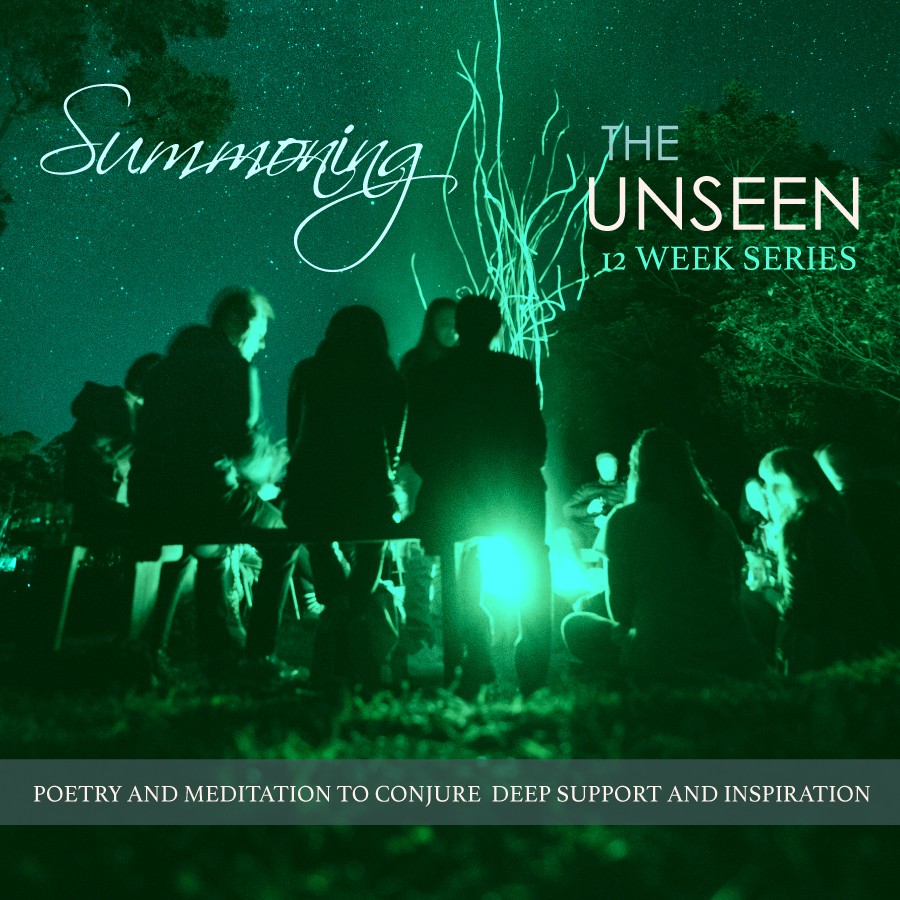 Summoning the Unseen – 12 Week
with Brooke McNamara & Special Guests Bayo Akomolafe, Erin Geesaman Rabke, Dare Sohei, Dave Rock, & Rachel Blackman
THIS CLASS IS NOW COMPLETE; registration is closed. Join my mailing list for notifications of new offerings. 
via Zoom video conferencing
Fridays, July 24th – October 9th
9-11 am PST/ 10am-12pm MT/ 11am-1pm CST/ 12-2 pm EST
Description
"There is another world but it is inside this one." ~ Paul Eluard
"The poet is the priest of the invisible." ~ Wallace Stevens
In these bewildering times, both our inner and outer worlds are undergoing rapid change and unraveling. So much is unknown and yet to be seen. We may fear becoming overwhelmed or disconnected from the emotional, relational, creative, and spiritual resources we need most right now.
Arundhati Roy writes: "Another world is not only possible, she is on her way. On a quiet day, I can hear her breathing."
Are we allowed to long for this other world??
To feel the burn, ache and pleasure of longing for something more, something deeper in, something more alive, connected and intimate with death — something perhaps already here, but as yet unseen or tended?
You are invited to enact, articulate and enjoy this more vivid world of presence and play, together in community, as a weekly ritual. By writing our way into and from our deep hearts, our untethered imaginings, and our solemn declarations of what we stand for in this life, we will create a blueprint for our living and relating with all of life in its sentience, wonder, grief, and mystery. We will summon the unseen forces around and within us to activate deep support, inspiration, and service, here and now.
"The sessions with Brooke and the community she gathers are gently powerful and powerfully gentle. After every session you have a sense of having had close friends for a visit and you would like them to stay, almost like when you were a kid, playing outside and being called in for dinner — you just want to play a little more, but no, you have to go... and you do it, because next week you will play again. Thank you Brooke for bringing soul, joy and presence to the sessions and the community. You are a gift."
~ Igno Van Niekerk,
Author, Leadership Trainer, Photographer, Storyteller, South Africa
Poetry can usher us into the realm of soul, imagination, and the liminal where we remember or sense things we didn't know we knew. A realm where we can receive vision or calibration not available through thinking or the conventional five senses alone. Where we may court and be courted by our muses. And where we can unfold and reveal bits of magic and insight simply by showing up to listen or bring pen to paper.
Meditation can harmonize body, mind, and breath, allowing deep letting go of unnecessary tension and revealing an ever present Awareness. This deeper nature is our birthright to realize, is not separate from any moment or expression of life, and is refuge when old reference points fall away.
In these bewildering times, let us gather together to engage these sacred rites: of imbibing and creating poetry, of meditation and falling into intimacy with what
matters most, and of being in community with the intention to be touched by worlds of unseen support and inspiration.
We are made to realize so much more than only apprehending
what we can touch.
Do you know why I'm asking us
to summon the Unseen? Because
the Unseen is summoning you
and me.
Weekly workshops include:
-  Spoken poems and teachings to bring themes alive in your experience
-  Gentle embodiment practices
-  Meditation instruction and sitting practice
-  Writing prompts, guidance on technique and artistry, and time to explore

through your own writing

-  Interpersonal exploration and time for connection to build robust relationships and intimate community

Brooke will lead seven of the workshops, with five gifted and inspiring guest teachers joining the community to offer specialized explorations into the topics of Postactivism & Prophecy-Poetry, Deep Time & The Present Moment, Skillful Navigation of the Unseen, Self-Love & Forgiveness, and Vulnerability & Connection.
You will also be invited to join a private Facebook group for members of Summoning the Unseen, in which to share poems, share your own writing and receive feedback, and generally explore together what comes up in the workshops.
---
Via Zoom video group call
Workshops will be recorded and sent to you within 48 hours, along with prompts and inquiries to consider in your writing and living between workshops.
---
---
Cost:

$395 suggested investment,
but please pay what you can